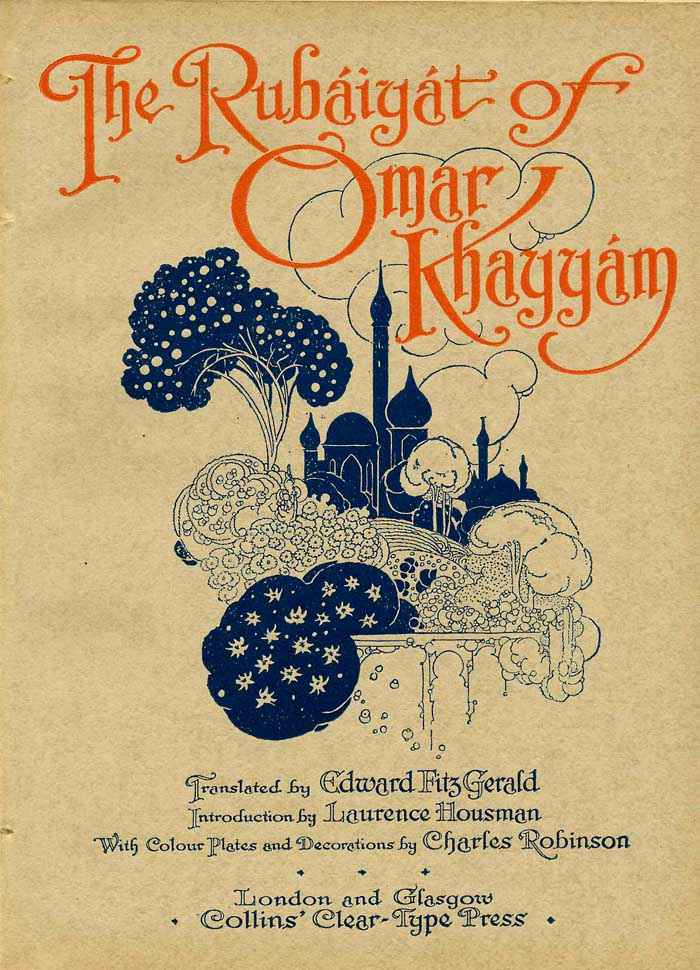 My third post in the Summer Poetry Challenge is about Edward Fitzgerald's interpretation of 12th century's Omar Khayyam's Rubaiyat, which became one of the most widely read poems of the 19th century. However, it is not considered to be a literal translation of the original, as Fitzgerald took a many liberties in his interpretation, in order to make a beautifully styled English version. Despite this, many scholars still consider Fitzgerald's version to be faithful to Omar's original meaning.

It would take years to begin to understand the metaphorical, intrinsic meanings of the quatrains. On the surface, The Rubaiyat seems to encourage living your life fully each day. It is impossible to understand the world around you, so live life to its fullest. There also seems to be a focus on the importance of friendship, and the delights of the tavern. I know, very profound. :)

Here are a few of my favorite quatrains:

I
Awake! for Morning in the Bowl of Night


Has flung the Stone that puts the Stars to Flight:




And Lo! the Hunter of the East has caught


The Sultán's Turret in a Noose of Light.

II


Dreaming when Dawn's Left Hand was in the Sky




I heard a Voice within the Tavern cry,"




Awake, my Little ones, and fill the Cup"


Before Life's Liquor in its Cup be dry."

XX


Ah, my Beloved, fill the Cup that clears




TO-DAY of past Regrets and future Fears:




To-morrow! Why, To-morrow I may be


Myself with Yesterday's Sev'n thousand Years.

XXI


Lo!

some we loved, the loveliest and best
That Time

and Fate of all their

Vintage prest,


Have drunk their Cup a Round or two before,


And one by one crept silently to Rest.

XXII


And we, that now make merry in the Room




They left, and Summer dresses in new Bloom,




Ourselves must we beneath the Couch of Earth


Descend, ourselves to make a Couch--for whom?

XXIII


Ah, make the most of what we yet may spend,




Before we too into the Dust descend;




Dust into Dust, and under Dust, to lie,


Sans Wine, sans Song, sans Singer, and--sans End!

XXXI


Up from Earth's Centre through the Seventh Gate




I rose, and on the Throne of Saturn sate,




And many Knots unravel'd by the Road;


But not the Knot of Human

Death and

Fate.

XXXII


There was a Door to which I found no Key:




There was a Veil past which I could not see:




Some little Talk awhile of ME and THEE;




There seem'd--and then no more of THEE, and ME.