I meant to post my review today of God Is Dead by Ron Currie, Jr., especially since I will most likely finish my current read today, Balzac and the Little Chinese Seamstress by Dai Sijie. But they will both have to wait. In replacement is some Friday fun. I was almost caught up on my book reviews too!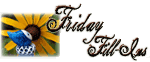 1. October is unseasonably warm this year.
2. 200+ books on my TBR pile doesn't/don't scare me!
3. Haunted houses would not be fun to live in.
4. My favorite scary movie is The Shining because Jack Nicholson rocks--and sometimes scares the hell outta me.
5. Yay me.
6. It was a dark and stormy night tonight.
7. And as for the weekend, tonight I'm looking forward to curling up with a good book and a cup of tea or hot cider as the thunderstorms rage, tomorrow my plans include going on a long walk with my hubby and catching up on laundry and Sunday, I want to go buy the remaining things we need for the baby's nursery!