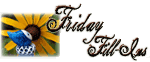 Woohoo to an extra day this year!

1. I'm looking forward to celebrating my birthday next week.
2. I don't handle things involving patience very well.
3. Fresh, organic, just picked strawberries are something I could eat every day. 
4. Warmth and sunlight are just around the corner. Come on Spring! 
5. Ready or not, here I come!
6. I like tattoo(s), but was too chicken to have any. After 24 hours of unmedicated labor, I've come to realize I could probably handle the pain of one tattoo.
7. And as for the weekend, tonight I'm looking forward to when I see my husband tomorrow (he left on Wednesday for an interview in Pasadena, CA, came back at 2am last night and started his 30 hour on-call shift at 5am), tomorrow my plans include taking Maya to baby story time at the library and Sunday, I want to have a nice lunch out with my hubby and daughter!