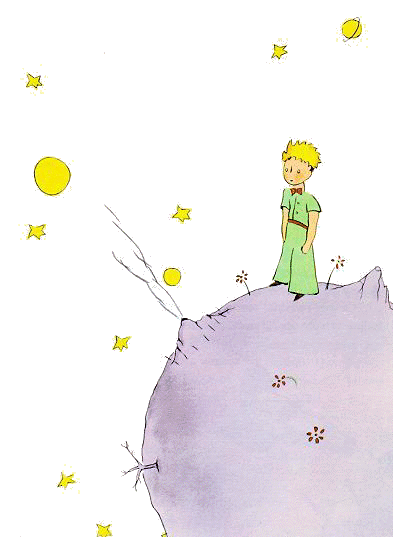 Title:
The Little Prince (Le Petit Prince)
Author & Illustrator:
Antoine de Saint Exup
éry
 (trans. by Katherine Woods)
The Little Prince
is a beautiful children's story narrated by a pilot who crashed in the Sahara Desert. While trying to fix his plane, he meets a little prince from another planet  who asks him to draw a sheep.
"When a mystery is too overpowering, one dare not disobey. Absurd as it might seem to me, a thousand miles from any human habitation and in danger of death, I took out of my pocket a sheet of paper and my fountain-pen."
(p.8) Thus begins the start of a dialogue in which the little Prince describes his planet, and how he came to Earth.
The Little Prince
is a child's view of the world, but it is certainly not for children alone. The story is a remarkable reflection of the human character. I look forward to re-visiting this story with Baby Maya, and to take the time to reflect upon the many metaphors present in this novella.
"

And now here is my secret, a very simple secret: It is only with the heart that one can see rightly; what is essential is invisible to the eye."
(p.87)
"What makes the desert beautiful," said the little prince, "is that somewhere it hides a well..."
(p.93)
Interesting facts about the author:
In 1935, Antoine de Saint Exup
éry
 crashed in the Sahara enroute from Paris to Saigon. He and his companion were rescued 4 days later when a Bedouin on a camel discovered them. This experience is referenced at the beginning of the story.
Tragically, in 1944, one year after
The Little Prince
was published, Saint Exup
éry
 disappeared while on a reconnaissance mission over the Mediterranean. The remains of his plane weren't found until 1998.