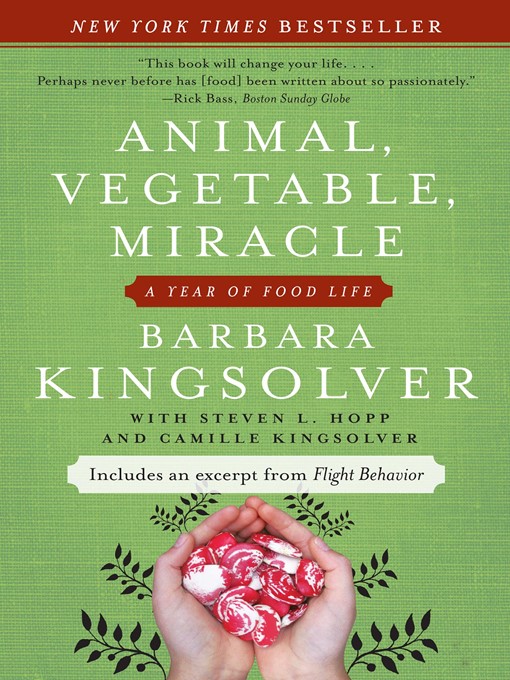 Title:
Animal, Vegetable, Miracle: A Year of Food Life
Author:
Barbara Kingsolver, with Steven L. Hopp and Camille Kingsolver 
At one point towards the end of Animal, Vegetable, Miracle, Barbara Kingsolver claims that her year-long journey as a locavore family (eating only local foods) was not purist. They had a hard time finding a local flour mill, and continued to use a few products, such as olive oil, spices and coffee, from other parts of the world. She came pretty darn close, however. This book is a chronicle of her family's journey during that year.

Eating local foods for a year is not a project that Ms. Kingsolver jumped into ill-prepared. Her family owns some land in Virginia, and she has been gardening for many years. She had already engaged in some trial runs of raising turkeys, and was an old hand at raising chickens and growing a vast amount of vegetables. Therefore, her journey was not one of extreme difficulty. Which, I believe, is part of the point. 
"If many of us would view this style of eating as deprivation, that's only because we've grown accustomed to the botanically outrageous condition of having everything, always." (p.65)
Of course, it is not easy growing your own food organically. But, for someone in her position (ie urbanites may find it more difficult), it was not an impossibility. What she did not grow, she supplemented with food bought at the local farmer's market. And this is part of her point. If you commit to making an effort to buy some of your food locally, you will find that once you change some habits, it's really not so hard to do. And it tastes so much better.
She makes the case that not only does store-bought conventional fruits and vegetables destroy our environment by stripping the land of nutrients, killing off wildlife with pesticides and insecticides, and pollute the earth with the fuel that is needed to transport out of season produce to your local store, but organic, local foods just taste better. I happen to wholeheartedly agree. 
Over the past few years, I have slowly discovered the gastronomic delights of local, organic produce. It started slowly. First, it was strawberries, the sweetness of locally picked berries just can not compare to anything else. Next, it was eggs. The first time I cracked open an organic, free-range egg, I couldn't believe how yellow the yolk was. And, it tasted so good (cooked, of course!). I then quickly moved on to milk from a local dairy (in a glass bottle), and all other sorts of produce. Since reading her book, I finally took the initiative to find a local free-range meat source that does not use growth hormones, and made the commitment to only buy meat from this source.
There were quite a few parts of the book that covered topics I am already somewhat knowledgeable about, although it was a welcome refresher course. What I loved reading about was the descriptions of the food her family grew, and eventually ate. I loved her descriptions of what they chose to grow: Moon & Stars watermelon, Cajun jewel okra, Gold of Bacau pole beans, Georgian Crystal garlic, Speckled Trout Romaine....aren't the names of heirloom vegetables divine? I also learned what an heirloom vegetable was. The family stories of preparing their food together, and large gatherings over a slow meal made me jealous. My family just doesn't appreciate food that way, and a long, drawn out meal is almost impossible. Believe me, I've tried.
Coinciding with Ms. Kingsolver's narrative are blurbs by her husband and essays by her eldest daughter showing a teenage perspective. Also included are recipes for each month of the year, utilizing food that is in season. I tried out one of the recipes while reading the book, for spinach lasagna (I can get local spinach and other lettuces year-round from a farmer that grows it in a greenhouse), and it was delicious.
You can find all of her recipes at the book's
website
.