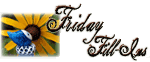 1. The last time I lost my temper I was getting angry about something trivial! 
2. Parenting advice from strangers is what I'm fed up with!
3. The next book I'd like to read is Snow Flower and the Secret Fan by Lisa See. 
4. Having someone babysit Maya so I can get a massage and a haircut is what I'm looking forward to. I'm just not sure when that's going to happen.
5. If you can't get rid of the skeleton[s] in your closet, dance with them!
6. The best thing I got in the mail recently was a package of books from Barnes and Noble, seven books for under $30!
7. And as for the weekend, tonight I'm looking forward to starting my cooking for Passover, tomorrow my plans include hosting a seder for six people and Sunday, I want to sleep and read, but will more likely be running errands and taking care of Maya!