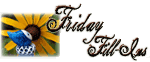 Yay, I have time to do a Friday Fill-In this week!
1. My favorite 

day

 of 2007 was 

November 26, the day my daughter was born

.
2. I'm most tempted by 

Pa

perback Swap and Amazon.com

.
3. Today I want to

sleep for 8 uninterrupted hours when I go to bed, which I know will not happen

.

 


4. The last thing I took a picture of was 

actually not my daughter, but something that I was giving away on Freecycle.

 
5. You and I have memories 

longer than the road that stretches out ahead. (can you figure out where I got this from?)


6. The most recent movie I've seen that I really enjoyed was

Transformers

.
7. And as for the weekend, tonight I'm looking forward to 

going to Daedalus bookstore

, tomorrow my plans include 

going on a walk, weather permitting

 and Sunday, I want to 

spend time with my husband and daughter

!